Ballroom goes Burlesque - Neols Ballroom Leipzig 25.02.2012 am 2012-02-25
Noels Ballroom Leipzig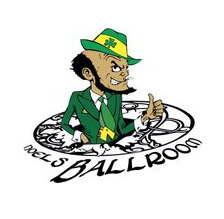 25.02.2012 (Sat.)


ACHTUNG!!! Tickets NICHT bestellbar!!!
Nur im Ballroom gegen Cash erhältlich!


21.00 Uhr – Ticket: € 10

Mama Ulita Entertainment proudly presents:

Ballroom goes Burlesque!


Liebe Freunde des Retro-Entertainments, Tanz- und Burlesque Lovers!

Es ist soweit! Nach dem exorbitanten Erfolg der letzten Party, feiern wir am 25.2. "BALLROOM GOES BURLESQUE – THE ALL GIRLIE TEASE NIGHT".
Für Glanz, Glamour, Musik und großartige Showdarbietungen sorgen in dieser Nacht schillernde Damen, angereist aus allen Himmelsrichtungen des Landes.


SHOWGIRLS:

• Eve Champagne (Sin City)

• Marlene von Steenvag (Sexiest Town on Earth)

• Simone de Boudoir (Lipsi Lillies Universe)

• Mama Ulita (L.indenau E.lley)

• Bühnenfee Fräulein Wunderland


DJ LADYS playing Dirty RocknRoll to Seductive Swing

• Anne Luba (Bookfair City)

• Lady Nico (Sexiest Town on Earth)



SPECIAL GUEST und Jury für den Best Dressed Award

• HEDO LUXE (Out of Space)


Werft Euch in Schale, lasst Euch insprieren von den bunt prächtigen Bildern aus den frühen Revue- und Musical Filmen Hollywoods, den Diven und Gangstern im Film Noir oder einfach von Eurem Kleiderschrank, der Dinge in sich birgt, die ihr schon immer tragen wolltet. Verwandelt Euch!

Es winken wundervolle Preise von unseren großartigen Sponsoren.

Ein Fotoshooting mit Anja Hofmann (www.justlookphotography.com)
Ein Haarschnitt von Madame Käthe (www.madame-kaethe.de)
Ein Gutschein des zauberhaften Modelabels Gracy Q (www.gracyQ.de)


Wie haben wir uns alle danach gesehnt! Endlich wieder ein rauschendes Fest mit Girls & Grooves!
Es wird eine glitzernde Reise durch die Nacht. Tanzt, trinkt, lacht, staunt und lasst Euch unterhalten von Stepptanz, Burly-Boas, verführerischem Gesang, exotischem Belly-Burlesque und zauberhafter Magie!
Werft Euch in Schale – Its time for dressing up!


ACHTUNG!!! Karten sind nur im Ballroom erhältlich!

Diese Veranstaltungen könnten Sie auch interessieren